LATEST NEWS AND EVENTS
Upcoming Roadshows
WA Silica  & Construction Roadshow
We're bringing the BFA Silica & Construction Roadshow to Western Australia
Monday 18th November
Herb Graham Centre
38 Ashbury Crescent, Mirrabooka
Perth, WA
Tuesday 19th November
Technology Park 
2 Brodie Hall Drive, Bentley
Perth, WA
Thursday 21st November
Master Builders WA Venue
19 Clifford Street (corner Jordan Way) Davenport
Bunbury Area, WA
Interested in becoming a sponsor? Download our sponsorship prospectus HERE.
If you have any further queries, please email bfa@aioh.org.au, or complete our Contact Us form.
Upcoming Events
Asbestos Safety Conference, 11th – 13th Nov, Perth 
Julia Norris, 2019 President of Breathe Freely Australia, will be a keynote speaker at the event. You can also meet our industry professionals at our booth, who will be there to provide you with expert information about preventative measures for occupational lung dieases.
Find out more information about the conference here.
Healthy Lungs Forum, Wed 27th Nov, Brisbane QLD
Peter Aspinall from AIOH will be presenting at the Healthy Lungs Forum to dicuss how and why we must protect workers from occupational lung diseases.
For more information & to register to attend to the forum, click here.
Previous Roadshows:
BFA Queensland Mining Roadshow
Our initial roadshows in QLD were so successful we are now running them in WA, bringing the industry experts to you.
CLICK HERE to see photos from the  events.

Silicosis Media Reports:
16th Aug 2019 | ABC News: Mother of first Silicosis Victim Speaks. Read the full interview here.
14th June 2019 | ABC Radio: Kate Cole, Breathe Freely Asutralia advoate and AIOH Member discussed silicosis and how it is not the new asbestos on Ockham's Razor podcast.
Click on the image below to listen.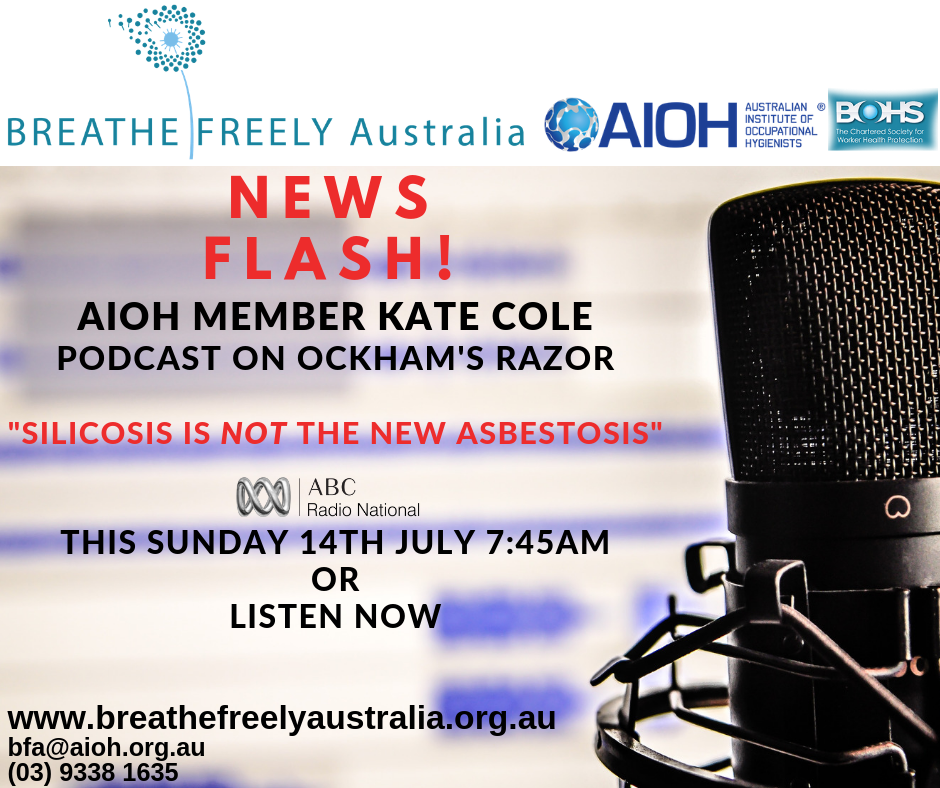 30th May 2019  | ABC News: Silicosis diagnosed in 22 year-old stonemason, making him the youngest to be diagnosed. Read the full article here.
13th March 2019 | ABC News: First recorded death of silicosis in QLD. Watch below.
22nd November 2018 | ABC 7.30 Report: Suppliers of stone benchtops facing questions over response to silicosis outbreak. Read full report here.
10th October 2018 | ABC News: Silicosis Crisis
P A R T N E R S