What is crystalline silica and silica dust?
Crystalline silica is a natural mineral found in many materials. Cutting, grinding, polishing and trimming materials that contain crystalline silica creates a dust that contains very small particles containing respirable crystalline silica which is commonly known as silica dust.
Breathing in silica dust is known to cause serious and often fatal diseases such as silicosis and lung cancer as well as many other health effects.
All stone benchtops contain crystalline silica. The crystalline silica content in bench tops can vary, but man-made stone bench tops can contain up to 95% crystalline silica. When silica dust is released into the air during any dust-creating activity that puts the health of workers at risk.

How can silica dust affect your health ?
Exposure to respirable silica dust can lead to the development of:
Silicosis (an irreversible scarring and stiffening of the lungs)
Accelerated silicosis.
Progressive Massive Fibrosis (PMF)
Chronic Obstructive Pulmonary Disease (COPD) often observed as emphysema and bronchitis
Lung cancer
Kidney disease
Auto-immune diseases such as rheumatoid arthritis
In at least one Australian state it has been reported that as high as one in four stonemasons have been diagnosed with silicosis due to exposure to silica dust.
Watch: The Impact of Silicosis
Placeholder for Video 3 – The Impacts of Silicosis
Is there any law which protects workers from silica dust ?
All states and territories of Australia have Occupational / Work Health and Safety Laws that center around the safety of employees at work. These laws require safe working conditions for workers.
What do laws require?
Many parties have duties in Australian law to keep workers safe such as suppliers, employers and workers. One aspect of the law is that workers cannot be exposed to silica dust above the exposure standard of 0.05 mg/m3. The law also requires employers to eliminate the risk to health and safety so far as is reasonably practicable, and if that is not possible to  minimise the inhalation of silica dust so far as is reasonably practicable. Practical guidance is available to explain how to achieve the standards of work health and safety available through your state and territory Work Health and Safety Regulator. For example, in the state of New South Wales, the relevant Regulator is SafeWork NSW.
What is an "Exposure Standard" ?
An Exposure Standard is an airborne concentration that must not be exceeded. Essentially it is a statutory maximum upper limit which cannot be exceeded by Law. It is not a boundary in between a healthy or unhealthy working environment because natural biological variations and the range of individual susceptibilities mean some people might experience adverse health effects below the exposure standard.
How do I know if the Exposure Standard has been exceeded?
An employer must ensure that air monitoring is carried out to determine the airborne concentration of silica dust in a worker's breathing zone, if necessary, to determine:
whether there is a risk to a worker's health, or
if the PCBU is not certain whether silica dust levels exceed the workplace exposure standard.
Air monitoring can also be used to:
check the effectiveness of control measures, including any new control measures
inform workers of their pattern of exposure
determine the right level of respiratory protection, and
inform health monitoring requirements.
Air monitoring is conducted by an independent, competent person such as an occupational hygienist. Air monitoring to determine a worker's exposure involves measuring the level of silica dust in the breathing zone of workers using a personal sampler during their usual shift activities, including routine breaks.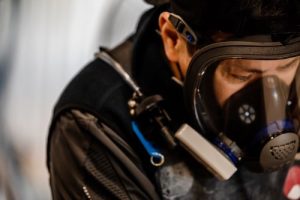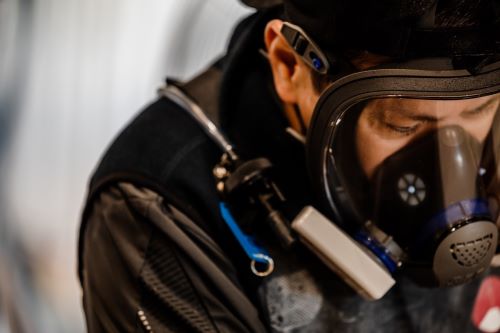 Who can assist in assessing silica dust exposure and how to keep workers safe?
Occupational hygienists are the professionals who support businesses to assess and control exposure to silica dust and help keep workers safe from illness and disease. Occupational hygienists can monitor silica dust exposure and can support businesses with preventing and minimising exposure to silica dust at work.
 How can I find an occupational hygienist?
You can find an occupational hygienist through the "Find a Consultant" function on the Australian Institute of Occupational Hygienists website here: https://www.aioh.org.au/resources/consultants/
Is Health Monitoring required?
Health monitoring is the process of being seen by a doctor to examine and monitor the health of workers to see if exposure to silica dust at work is affecting their health. Employers must arrange for regular health monitoring for workers exposed to silica dust.
How can you protect yourself from silica dust exposure?
The risk of silicosis and other silica-related diseases is high in stone workers, so many control measures need to be in place to keep workers safe. Some of those control measures include:
Never cutting, grinding or polishing stone dry
Using water to suppress dust generated from cutting and making sure that tools and machinery are specifically designed for use with water attachments and dust extraction
Cleaning up slurry with low pressure water, wet sweeping or an M- or H- class rated vacuum cleaner (never using a broom)
Using personal respiratory protective equipment (RPE) and ensuring that it is fit-tested and fit-checked before use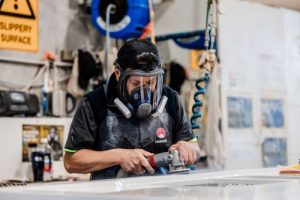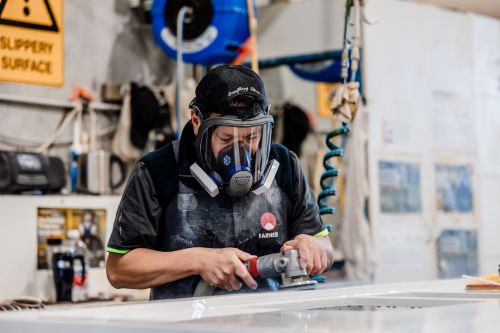 When using Respirators
You must be clean shaven if your respirator is close face fitting
Know how to correctly put on your respirator, how to take it off, and how to safely dispose of it
Know how to maintain your respirator (when to discard disposable respirators, when and how to change the filter, and how to keep the respirator clean and stored appropriately)
You must be fit-tested for the specific make and model of respirator
You must do a fit-check
Watch: Respiratory protection – What is it & how do you use it correctly?
Placeholder for Video 1
Fit Testing of Respirators
As our faces come in all shapes and sizes, each wearer needs to be supplied with a respirator which fits them properly. Fit testing is a method which demonstrates how well a respirator fits a persons face and is essential to make sure that the respirator works correctly and is comfortable to wear.
There are specific legal duties that must be met when providing personal protective equipment (such as tight fitting respirators) which includes ensuring that it is a suitable size, fit and reasonably comfortable. Guidance on this is provided in AS/NZS 1715 which discusses respirator fit testing (for tight fitting respirators) as part of a complete respiratory protective program and is an accepted way to meet the legal obligations with regard to supply of suitable and properly fitted respiratory protective equipment.
State and Territory WHS/OHS Regulators may issue notices and fines where the duty holder under the WHS/OHS legislation cannot demonstrate where a respiratory protection program in accordance with the Australian Standard AS/NZS 1715 (which includes respirator fit testing for tight fitting respirators) is implemented.
Watch: Respiratory protection – Fit testing
Placeholder for Video 2
What type of respirators need to be fit tested?
All respirators that rely on a seal around the face (known as close-face fitting), need to be fit-tested before use. These include:
Disposable respirators (e.g. P2/N95 respirators)
Re-usable half-face respirators
Full-face respirators, including those with powered air (e.g. PAPR) where a tight seal around the face is needed
Fit testing is required by Australian New Zealand Standard AS/NZS1715 before a user wears a respirator on the job, and should be assessed at least annually. In addition, fit tests should be performed:
Whenever a different size, style, model or make of respirator is used.
When any facial changes occur that could affect fit, such as significant weight fluctuation or dental work.
Who can conduct the fit-test?
Fit testing should be conducted by a competent person.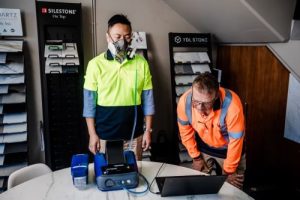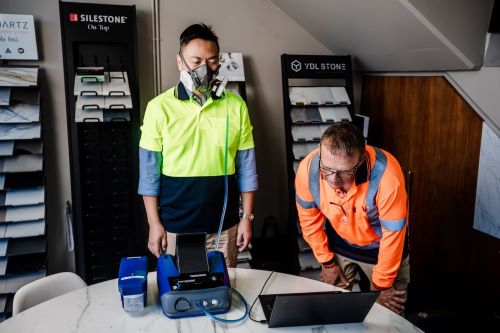 What is RESP-FIT?
RESP-FIT is a national respirator protective equipment (RPE) fit testing training and accreditation program developed to improve the competency of fit testers against both the Australian and international ISO respirator standards for fit testing. RESP-FIT was developed by the Australian Institute of Occupational Hygienists through close collaboration with many industry stakeholders .
Where can I find a RESP-FIT Accredited fit-tester?
You can find a RESP-FIT Accredited Fit Tester here: https://respfit.org.au/find-a-fit-tester/
Fit Testing vs Fit Checking
Fit Testing
Fit testing detects air leaks around the seal between the respirators facepiece and face of the worker. If there isn't a good seal, contaminated air will leak into the respirator and the worker may not get the level of protection that is needed to protect their health.
Workers must pass a respirator fit test before they first start wearing a tight-fitting respirator.
Fit testing is required for all types of tight-fitting respirators.
If a worker does not pass a fit test, the worker may obtain a better fit by trying a respirator of a different size or model or made by another manufacturer. Alternatively, a respirator that doesn't rely on a tight-fitting face seal, such as a hood type may be selected if suitable.
Fit Checking
Each time a tight-fitting respirator is put on, the worker should carry out a fit check.
A fit check is a quick check to ensure the respirator, which has been fit tested, has been properly positioned on the face and there is a good seal between the respirator and face.
Fit checks do not replace the need for a fit test.